100th Anniversary of Women's Suffrage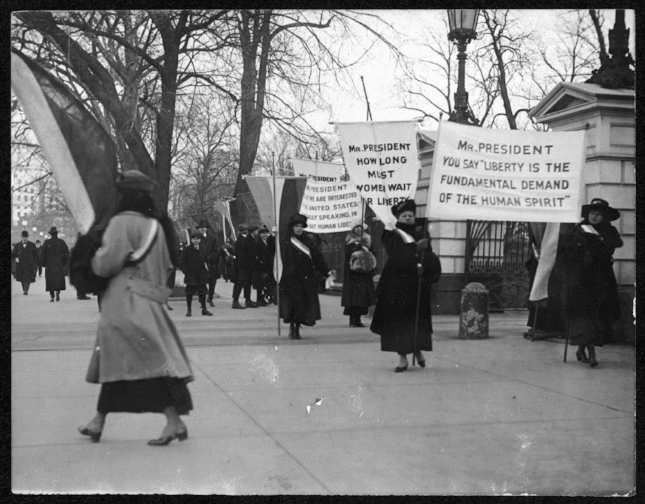 "Mr. President, What Will You Do for Woman Suffrage?"
             "How Long Must Women Wait for Liberty?"
Pictured above are women protesting outside of President Woodrow Wilson's White House in 1917. The image is part of a vast collection at the Library of Congress that depicts the efforts behind woman suffrage in the United States. Three years later, in 1920, the long wait was over, women achieved the right to vote with the signing of the 19th Amendment to the constitution.
Closer to home, women had also fought for the right to vote. In 1890 South Dakota suffragists lost by a two-to-one margin, finally achieving their aim in 1918 when a constitutional amendment was approved, granting women the right to vote. One year later, Congress put forth the amendment for woman suffrage, ratified in 1919 and made into law in 1920.
Now, we celebrate these momentous hundredth anniversaries with three books detailing the struggle of women for liberty in this great nation: Born Criminal: Matilda Joslyn Gage, Radical Suffragist in 2018; a Northern Great Plains suffrage anthology in 2019; and, Voice of Liberty in 2020.
Help us tell the story of woman suffrage and the influential suffragists who made it happen. Ensure that our state history is shared by donating to the South Dakota State Historical Society Suffrage Project—every dollar helps guarantee that South Dakota will be a part of the national celebration.
Book publishing is an expensive business, especially for a nonprofit—the price of a first print run and a national marketing campaign can run upwards of $100,000. To do it right, our goal is to raise $300,000 over the next three years. That is 2,000 $150 donations, or 200 $1500 donations, or 20 $15,000 donations. Your gift will ensure both a quality product and that the history of this important movement is widely disseminated.
Every donation to the South Dakota State Historical Society Suffrage Project will be recognized as the books are promoted through a state and nation-wide publicity campaign that includes, but is not limited to, author signings and symposiums, digital and print advertising, a social media push (#radicalwomen), and a poster campaign.
Thank you for your time and consideration. Please indicate your level of support below or call (605) 773-6003 to learn more.
Nancy Koupal, director and Editor-in Chief
South Dakota Historical Society Press

Catherine K. Forsch, President
South Dakota Historical Society Foundation
Women's Suffrage Book Projects & Women's Suffrage Statewide Education………………...goal $300,000
---
Yes! Women's Suffrage is important to me! I want to help make possible the publication and promotion of women's suffrage nationwide!