100th Anniversary of Women's Suffrage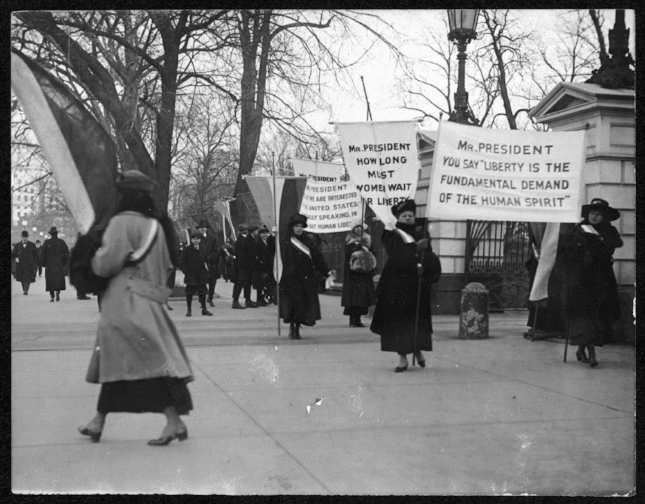 Celebrating courageous suffragists who
made votes for women possible
We are soon approaching the 100th anniversary of the passage of the Nineteenth Amendment granting equal voting rights for women in South Dakota.  Help us to tell the story of the courageous suffragists who made votes for women possible.
In 1919, when Congress passed the Nineteenth Amendment granting women the right to vote, suffragists throughout South Dakota and the Great Plains region had been hard at work for more than thirty years. With the help of early activists like Matilda Joslyn Gage, who toured Dakota Territory in the 1880s, and grass-roots organizers like Alice Alt Pickler of Faulkton and countless local workers, South Dakota achieved woman suffrage in 1918, a full two years before ratification of the Nineteenth Amendment in 1920.
To celebrate the anniversaries of women gaining the right to vote, the South Dakota Historical Society Press will publish three books detailing the struggle of women for liberty: Born Criminal: Matilda Joslyn Gage, Radical Suffragist in 2018; Voice of Liberty in 2019; and Votes for Women on the Northern Great Plains in 2020. (Click on the Upcoming Woman Suffrage Project link below for more information.)
Our goal is to raise $150,000 over the next three years to educate, promote, and publish the books on women's suffrage. We seek fifteen hundred $100 donations, or one hundred $1,500 donations, or ten $15,000 donations. Your support ensures that the history of this important movement will be widely disseminated. 
Make your gift in your name, your company name, or in the name of a woman who has inspired or mentored you. We will recognize your gift in our annual report and on our websites. Promotion of the books will include both state and national components that highlight the contributions of these little-known women. Through activities, including author signings and symposiums, digital and print advertising, and social media (#radicalwomen), we will bring attention to the efforts of Great Plains women and their supporters. Thank you for your help in fulfilling this mission.
Please call (605) 773-6003 to learn more or indicate your level of support below. We appreciate your time and your consideration.
Sincerely,
Nancy Koupal, Director and Editor-in Chief
South Dakota Historical Society Press

Catherine K. Forsch, President
South Dakota Historical Society Foundation
---
Yes! Women's Suffrage is important to me! I want to help make possible the publication and promotion of women's suffrage nationwide!