Save Carl's Bait Shop Neon Sign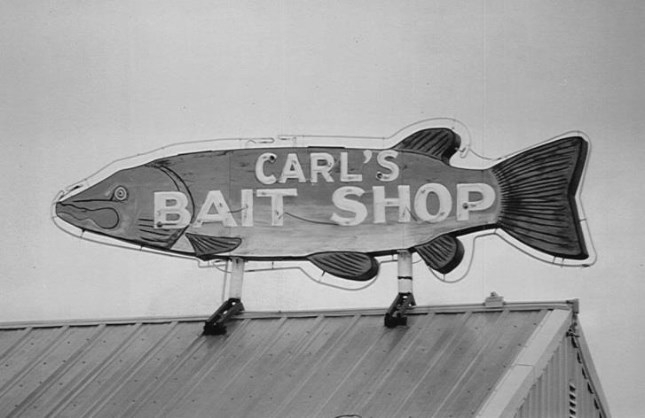 Iconic Bait Shop Sign Lives On 
For more than 60 years, Carl's Bait Shop was a popular and successful business in Fort Pierre with several generations of clientele.   From approximately 1949 until 2017, the iconic "Carl's Bait Shop"  with its lighted neon walleye marked the spot for fishing enthusiasts to find bait, tackle, and other necessities for an experience on the Bad or Missouri River rivers.  
Fishing is big business in South Dakota, and it has been important to all people living along the rivers throughout time.  Whether for sport or sustenance, literally millions have people have spent time fishing in South Dakota.
The sign is an important part of South Dakota history in that it represents an era in business, and it signifies how important fishing is to the state from a business perspective.  
The museum has been given an opportunity to restore and display the sign in our gallery, thereby allowing us to provide more and better interpretation of the sport and the business.  
Our intent is to restore the sign on both sides so that the neon image can be seen on both sides of the sign where it will be mounted perpendicularly to a wall in the twentieth-century section of The South Dakota Experience.   We will work with Rosenbaum Signs from Rapid City on restoration and installation of the artifact.  
Restoration of the iconic Fort Pierre, Carl's Bait Shop neon sign to display in the Changing Times gallery.....$12,000
---